Gender equality is a fundamental condition for democracy, peace, sustainable development and the fight against poverty. All projects and cooperations should therefore promote gender equality. Read on to find out how you can do just that in your organisation!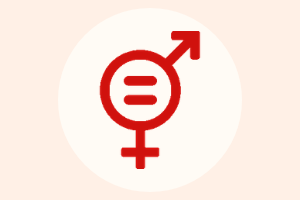 Why integrate a gender perspective?
The Palme Center is a feminist organisation. All projects run with funds from the Palme Center must promote gender equality and non-discrimination.
Occasionally, this is done directly, i.e. through activities intended to contribute directly to increased equality and reduced discrimination. However, those projects and operations that do not focus directly on gender equality and non-discrimination should, as far as possible, also be designed in such a way as to promote gender equality and combat discrimination. All projects/operations must be gender mainstreamed.
In practice, this means that the operation must be founded on a thoroughly tried and tested gender equality and power analysis that is included in the planning, implementation and follow-up of the operation.
When performing an analysis of this kind, it is useful to think of how different power orders and discrimination bases affect and occasionally amplify one another. An individual power order cannot be understood independently of others. This is usually referred to as intersectionality. 
Tools for conducting a gender analysis and how you can work with gender mainstreaming can be found below.
Method materials on gender equality
Brochure: Voices for Equality
Gender equality work in practice. Here you will meet some of our partners who work for a more equal society in different parts of the world. The brochure also contains discussion questions and facts on gender equality.
Manual: Equality Benefits All
A method manual about working for gender equality and LGBTQ rights. This handbook gives guidance to organisations conducting projects with funds from the Palme Center and is a complement to the project handbook.
Report: Feminist policies for climate justice
In order to make the climate transition fair and successful, girls and women need to be recognized as central actors. This report describes policies that can help us build a green and gender-equal world. The Palme Center has contributed a chapter on Just Transition with a gender perspective.
Gender checklist
A quick and easy way to take stock of the situation regarding gender equality in your own organisation or project. Use the checklist as a starting point to discuss how you can develop the work for gender equality. (1 page)
Gender budgeting
How do your resources meet the needs of women and men and girls and boys respectively? Use this simple overview to analyse how the project's or organisation's resources are distributed from a gender perspective and to start a discussion on how you can use the resources in a more equitable way. (4 pages)
Support questions when planning your operations
Questions that you can use when you are planning and following up your work, to increase gender equality and reduce discrimination. (An excerpt from the Project Management Handbook.)
Powerpoint: Gender equality benefits all!
Use this powerpoint to hold a workshop in your organisation for example, and adapt it as you like. The purpose is to increase the awareness of gender equality, why it is important and what it entails. It provides practical tools for discussing and developing your internal gender equality work. (27 slides)
Method sheet: Gender equality analysis
Each programme or project that is planned together with the Palme Center begins with a gender analysis. It's a tool used to plan and implement activities in a way that contributes to gender equality. This method sheet explains how it's done. (4 pages)
Method sheet: Gender equality integration
Gender equality integration is also called gender mainstreaming. It means ensuring that the gender equality perspective is present in each step of the activities. This is a brief introduction. (2 pages)
Gender equality vocabulary
What do we really mean by power structures, feminism and norms? If in doubt, look it up in this little phrasebook on the theme of gender equality. (2 pages)
More integrated perspectives
Gender equality is one of our four integrated perspectives. In order for our operations to contribute to positive and progressive development, the following three perspectives must also be present in all projects: