Corruption is a hinder to development. To combat it, we must try to create transparency and accountability, in our own organisations as well as in society at large.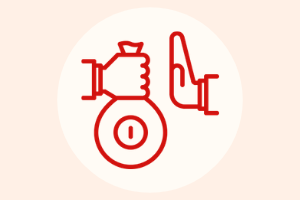 Why take measures to prevent corruption?
The risk of corruption is greatest in countries where the state and its institutions are weak, the form of government is undemocratic, and civil society is not well-established.
At the same time, poorly developed democratic institutions and a lack of democratic culture help allow corruption to spread unchecked.
Corruption, in turn, hinders societal development and serves as an obstacle to democracy and human rights. It is therefore essential to take a zero-tolerance approach to corruption. Preventing and combating corruption makes a major contribution to democratic development. 
Help us fight corruption!
Sound the alarm about suspicions of corruption or other irregularities in the operations. You can be anonymous and secure.
Method material on anti-corruption
Corruption—An Obstacle to Development
Fighting corruption is necessary to improve the living conditions of the world's poorest. This handbook gives guidance to organisations conducting projects or operations with support from the Palme Center. How can you prevent resources from being used in an unethical way?
Support questions when planning your operations
Here you will find a number of questions to ask yourselves as you plan and follow up your work, in order to combat corruption. (This is an excerpt from the Project Management Handbook.) (1 page)
More integrated perspectives
Anti-corruption is one of our four integrated perspectives. In order for our operations to contribute to positive and progressive development, the following three perspectives must also be present in all projects: