Nyhetsbrev
Prenumerera gratis på våra nyhetsbrev och inbjudningar till seminarier.

Call for proposals: Support to Just Transition changemakers

The Training of Trainers will take part early winter 2022, and the organisation who is selected in this call for proposals to provide after-support (and possibly facilitate another round of the Training of Trainers) will do so in the first quarter of 2023. You will find more details about the project in the call for proposals – link below – under the Just Transition part.

We are welcoming proposals from partners working on the issues related to a Just Transition.

Deadline: 6th of November at 23:59.

Read the call for proposals here (ENG) 

It can also be found here in FR and here in ES

13 nov: Projektledarutbildning + Palmedagar

När: Söndagen den 13 november klockan 9–16

Var: Sveavägen 68, Stockholm

Efter utbildningen hoppas vi att ni som projektaktiva har fått en ökad förståelse för organisationens ansvar för den som reser, risker vid resa och att ni fått byta erfarenheter kring grundläggande metoder för ökad säkerhet vid resor. En säkerhetsexpert kommer att ge oss nya verktyg, samt möjlighet att öva dessa, för kommunikation i knepiga situationer som kan inträffa vid resor.

Vi ser gärna att ni är minst två (max 3) deltagare från varje projektgrupp!

Palmecentret står för resan samt logi och mat under utbildningen.

I år fyller Palmecentret även 30 år och vi vill att ni är med och firar!

Därför är ni extra välkomna att delta utan kostnad på Jubileumskvällen fredagen den 11 november i LO-borgen klockan 16–21 samt på Palmedagen under lördagen den 12 november på Norra Latin klockan 10-16.30.

Anmälningar sker senast måndagen den 10 oktober.

Anmäl dig till utbildningen och Palmedagarna här 

Hör av er till oss eller till er projekthandläggare på Palmecentret om ni har några frågor.

Vänliga hälsningar,

Frida Perjus och Karl Bergkvist, Olof Palmes Internationella Center

Just in – toolkit for internal democracy

How about arranging a study circle on the topic?

Or answering a list of questions to get a quick visual overview of strengths and areas where action is needed?

Many of the exercises are learning by doing – just by using these tools you will be exercising internal democracy.

Date: March 16th

Time: 9.30-11 am CET

After active participation in the workshop you will be able to…
Analyse climate and environmental risks in your region and give examples of how these may affect your target groups.
Examine how your current goals can contribute to climate and environmental action
Identify how you can increase those positive effects.
What's the point of all this?

The benefit of practicing this is that we can become better at spotting climate and environmental risks that may undermine our progress.

Analysing our operations from a "green" perspective also means that we can contribute to environmental and climate action that strengthens our goals and the rightsholders we wish to support.

If we do not see the links between the planetary crisis and our goals, and act on them… our countries will be left dangerously unprepared and policies to counter the crisis will neither be adequate or just.

Sign up

Register here by March 10th if you want to join.

What is social democracy?

The book "What is Social Democracy?" gives an introduction to social democratic ideology, history and policy. It's authored by the former Swedish Prime Minister Ingvar Carlsson and Anne-Marie Lindgren.

We have all gone through a process where online activities was something we mainly did while waiting for the pandemic to pass, to understanding that this is a permanent change in terms of how we meet, learn, interact and collaborate. Online meetings will not replace physical meetings after the pandemic, but they are here to stay—and to complement and expand our activities.

Shrinking democratic space during the pandemic and lockdowns calls for more capacity development online, and for actors who work in favour of democracy to become more active together.

This is a hands-on guide on what to think about before, during and after an online training or activity.

It contains information about the process, manuals for tools, practical tips, templates and examples. There is also a theoretical part about online learning that looks at how we can make participants feel safe, be active and learn effectively in this context.

This guide was developed for our partner and member organisations and staff. We hope that it will contribute to the strategic partnership and our common learning.

Palmecentret står för kost och logi under utbildningen. Vi kommer att hålla till på charmiga Långholmen i Stockholm.

Ni som deltar i utbildningen är Palmecentrets medlemsorganisationer som driver internationella projekt.

För anmälan kontakta: utbildning@palmecenter.se

Efter aktivt deltagande i utbildningen kommer ni bland annat att kunna:
Ge exempel på hur ni kan integrera perspektiven miljö och klimat samt konfliktkänslighet i ert projekt
Skissa på en plan för uppföljning och utvärdering av projektet
Formulera ett resultat i termer av en beteendeförändring
Reflektera kring hur ni kan stödja effektiva förändringsprocesser hos era partners
Ge exempel på olika sätt att arbeta med kapacitetsutveckling
Bedöma en redovisning enligt Palmecentrets modell
New brochure: Voices for Equality

Apart from case studies, you'll also find discussion questions and facts about gender equality. Why not use the brochure to get new ideas for how to increse the focus on gender equality in your own work?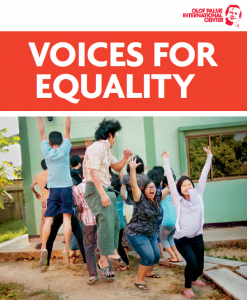 New material: Climate policy for Just Transition

With this material, we would like to spread knowledge about the climate crisis that is an existential threat to all of humanity. But above all, we hope that it will highlight the opportunity for our movement that lies in acting for climate solutions and equality at the same time: a Just Transition. Read it, get inspired and share your ideas for how we can work together to promote a sustainable world!