Nyhetsbrev
Prenumerera gratis på våra nyhetsbrev och inbjudningar till seminarier.

Get your guide to online trainings and activities

We have all gone through a process where online activities was something we mainly did while waiting for the pandemic to pass, to understanding that this is a permanent change in terms of how we meet, learn, interact and collaborate. Online meetings will not replace physical meetings after the pandemic, but they are here to stay—and to complement and expand our activities.

Shrinking democratic space during the pandemic and lockdowns calls for more capacity development online, and for actors who work in favour of democracy to become more active together.

This is a hands-on guide on what to think about before, during and after an online training or activity.

It contains information about the process, manuals for tools, practical tips, templates and examples. There is also a theoretical part about online learning that looks at how we can make participants feel safe, be active and learn effectively in this context.

This guide was developed for our partner and member organisations and staff. We hope that it will contribute to the strategic partnership and our common learning.

Palmecentret står för kost och logi under utbildningen. Vi kommer att hålla till på charmiga Långholmen i Stockholm.

Ni som deltar i utbildningen är Palmecentrets medlemsorganisationer som driver internationella projekt.

För anmälan kontakta: utbildning@palmecenter.se

Efter aktivt deltagande i utbildningen kommer ni bland annat att kunna:
Ge exempel på hur ni kan integrera perspektiven miljö och klimat samt konfliktkänslighet i ert projekt
Skissa på en plan för uppföljning och utvärdering av projektet
Formulera ett resultat i termer av en beteendeförändring
Reflektera kring hur ni kan stödja effektiva förändringsprocesser hos era partners
Ge exempel på olika sätt att arbeta med kapacitetsutveckling
Bedöma en redovisning enligt Palmecentrets modell
New brochure: Voices for Equality

Apart from case studies, you'll also find discussion questions and facts about gender equality. Why not use the brochure to get new ideas for how to increse the focus on gender equality in your own work?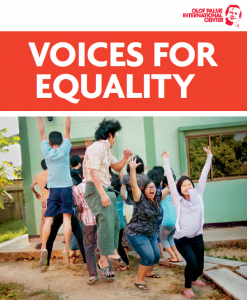 New material: Climate policy for Just Transition

With this material, we would like to spread knowledge about the climate crisis that is an existential threat to all of humanity. But above all, we hope that it will highlight the opportunity for our movement that lies in acting for climate solutions and equality at the same time: a Just Transition. Read it, get inspired and share your ideas for how we can work together to promote a sustainable world!