Nyhetsbrev
Prenumerera gratis på våra nyhetsbrev och inbjudningar till seminarier.

Call for proposals: Support to Just Transition changemakers

The Training of Trainers will take part early winter 2022, and the organisation who is selected in this call for proposals to provide after-support (and possibly facilitate another round of the Training of Trainers) will do so in the first quarter of 2023. You will find more details about the project in the call for proposals – link below – under the Just Transition part.

We are welcoming proposals from partners working on the issues related to a Just Transition.

Deadline: 6th of November at 23:59.

Read the call for proposals here (ENG) 

It can also be found here in FR and here in ES

Call for proposals: Human Rights & Democracy Support to Civil Society in Türkiye

The objectives are:
Strengthen civil society organisations in their capacity to driving opinion work, influencing decision makers, and offering community services.
The specific objective of the support to civil society organisations is to strengthen CSOs as independent actors of good governance and development in their own right.
Contribute to legal frameworks that enable civil society to work freely with space and opportunity to influence decision-makers.
The specific objective is to contribute to an inclusive, participatory, empowered, and independent civil society and democratic space; and an inclusive and open dialogue with and between Civil Society Organisations.

The interested civil society organisations in Türkiye are welcome with a Concept Note (max two pages) providing for an Inception Phase, and an Organisational Description (max one page) written in optional format. Budget for the Inception Phase is restricted to maximum SEK 100 000.

Proposals are to be sent via email (to mailbox: application@palmecenter.se) before the 15th of August 2022.

Just in – toolkit for internal democracy

How about arranging a study circle on the topic?

Or answering a list of questions to get a quick visual overview of strengths and areas where action is needed?

Many of the exercises are learning by doing – just by using these tools you will be exercising internal democracy.

Date: March 16th

Time: 9.30-11 am CET

After active participation in the workshop you will be able to…
Analyse climate and environmental risks in your region and give examples of how these may affect your target groups.
Examine how your current goals can contribute to climate and environmental action
Identify how you can increase those positive effects.
What's the point of all this?

The benefit of practicing this is that we can become better at spotting climate and environmental risks that may undermine our progress.

Analysing our operations from a "green" perspective also means that we can contribute to environmental and climate action that strengthens our goals and the rightsholders we wish to support.

If we do not see the links between the planetary crisis and our goals, and act on them… our countries will be left dangerously unprepared and policies to counter the crisis will neither be adequate or just.

Sign up

Register here by March 10th if you want to join.

What is social democracy?

The book "What is Social Democracy?" gives an introduction to social democratic ideology, history and policy. It's authored by the former Swedish Prime Minister Ingvar Carlsson and Anne-Marie Lindgren.

We have all gone through a process where online activities was something we mainly did while waiting for the pandemic to pass, to understanding that this is a permanent change in terms of how we meet, learn, interact and collaborate. Online meetings will not replace physical meetings after the pandemic, but they are here to stay—and to complement and expand our activities.

Shrinking democratic space during the pandemic and lockdowns calls for more capacity development online, and for actors who work in favour of democracy to become more active together.

This is a hands-on guide on what to think about before, during and after an online training or activity.

It contains information about the process, manuals for tools, practical tips, templates and examples. There is also a theoretical part about online learning that looks at how we can make participants feel safe, be active and learn effectively in this context.

This guide was developed for our partner and member organisations and staff. We hope that it will contribute to the strategic partnership and our common learning.

Apart from case studies, you'll also find discussion questions and facts about gender equality. Why not use the brochure to get new ideas for how to increse the focus on gender equality in your own work?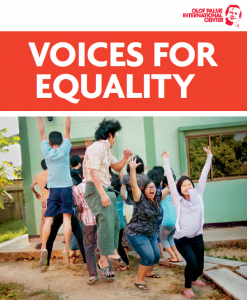 New material: Climate policy for Just Transition

With this material, we would like to spread knowledge about the climate crisis that is an existential threat to all of humanity. But above all, we hope that it will highlight the opportunity for our movement that lies in acting for climate solutions and equality at the same time: a Just Transition. Read it, get inspired and share your ideas for how we can work together to promote a sustainable world!